By Tyler Meurlin '96
Episcopal lessons last a lifetime:
When I consider my time at EHS, I feel very fortunate: for the opportunity to attend Episcopal; to have made it through; for the friends, lessons, and experiences it afforded me. Episcopal fosters an educational environment that produces well-rounded young men and women. It's that education I am most thankful for today.  The most valuable lesson I learned at EHS was how to deal with adversity. I was hardly an academic and this showed quickly during my "new boy" year. The faculty did a tremendous job helping me to focus, teaching me how to learn, and providing me with the tools necessary to make my mark. When I graduated, Episcopal had me well-prepared to meet the challenges I would face in college and in my career. I can say with total confidence that without my time at The High School I would not have made it to where I am today.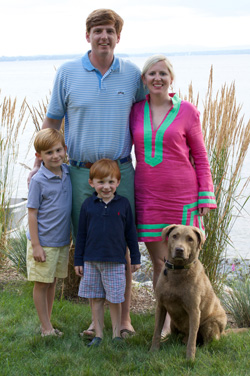 Great faculty makes a huge difference:
During my time at EHS, the faculty, staff, and administration was brimming with great people - it's hard to single out just a few. Ed Rice was my senior advisor, and Pete Gillin was my sophomore English teacher and lacrosse coach for three years. Coach Gillin made sure to set the tone for me to work harder than I thought I could on the lacrosse field and in the classroom. He taught lessons on leadership through example not just with words. He was a guy I looked up to and wanted to keep happy. Ed Rice's reputation is well known. I never had him as a coach, but I am grateful for his academic support and advice during my senior year. Coach Rice helped me with my academics as well as advising me as I worked through the recruiting process and my college decision.
It feels good to give back:
Episcopal is a special place. I feel indebted to the School, so I help as much as I can. I consistently support The Roll Call, volunteer with the Advisory Council, and attend local receptions for admissions and alumni events. I have also chosen to support EHS through planned giving. I first drafted my will in my early 30s after I was married. I wanted to protect my assets and ensure that they stayed in the family. Episcopal is part of that family. My goal was to give a significant gift to Episcopal with the least impact on my wife and children. As such, the most affordable gift I could make was through life insurance. My policy covers my family's needs and provides a strong financial foundation for my children. I view the insurance policy as 'easy money' that costs me very little and as a way to impact the School with a significant gift after I'm gone. Episcopal provided me with a wonderful, well-rounded education. It is my hope that the School can utilize my future gift to allow students to experience the same opportunities I was afforded. I can't stress how easy it is to make a planned gift. If you already have a will or are in the process of creating one, I would encourage you to include EHS in your plans.